Share and Help us Spread the Message: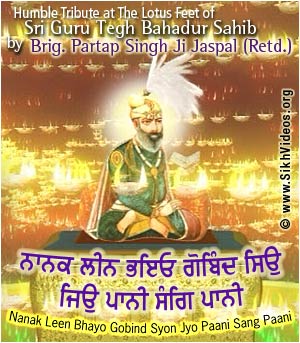 "The last wish of Bhai Mati Das was to die facing his beloved Satguru. For his eyes it was a divine feast to see his beloved Lord till his last breath. What a wonderful, unique, spiritual nourishment for the soul and body through the blessed eyes! What a rewarding utility of the God-given gift of eyes!
He felt absolutely serene in the loving presence of his beloved Satguru, and was grateful to his executors for their gracious role in helping him to embrace martyrdom at the holy feet of his Lord."
Click to watch the whole Video
A soul-stirring Video on the Most Sacred relationship of Sikh and Guru, about which Baba Narinder Singh Ji had said that "Guru Te Sikh Da Rishta Sab To Paak Rishta Hai, Es Rishety Vich Maya Nahin Aani Chaheedi. Es Rishtey de Agey Khuda vee Apna Sees Jhukanda Hai."
Covered in-depth is:
Discovery of Sri Guru Tegh Bahadur Sahib by Makhan Shah Lubhana
First Holy Hymns uttered by Sri Guru Tegh Bahadur Sahib and their Deep Significance
Circumstances for the Holy Martyrdom of Three Sikhs of Sri Guru Tegh Bahadur Sahib
Live and Detailed Description of Martyrdom of Bhai Mati Das Ji, Bhai Sati Das Ji, and Bhai Dyala Ji.
Sacred discources on relationship between Sikh and Guru
Should a Sikh ever use Miraculous powers. Explained with many examples.

Click to watch the whole Video
and please do send your feedbacks