Share and Help us Spread the Message: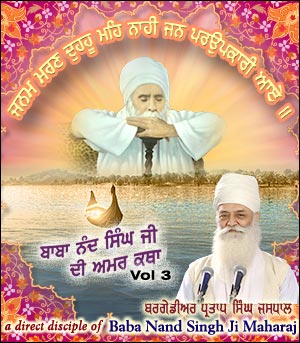 - Sri Guru Granth Sahib, 749
Video on the Greatest Divine Lover of Sri Guru Nanak Sahib and Sri Guru Granth Sahib. Babaji had physically departed from this mundane world on 28th August, 1943. This Video touches upon the Sacred Incidents that took place after His physical disappearance.
Watch the Video - Janam Maran Dohu Main Nahi Jan Paropkari Aaye
Any prayer made to Him from the heart was instantly
heard by Him thousands of miles away. Any prayer directed to Him even after His physical disappearance was and is instantly responded.

How wonderful and reassuring is the evidence of His
Eternal Existence and Eternal presence, derived from such soul-stirring experiences. Mysterious and subtle are the ways in which Mahan Baba Ji reaches out to His devotees all over the globe even now, i.e. sixty two years after His seeming physical disappearance from the world scene. This more than anything else highlights His Eternal Glory.
Watch the Video - Janam Maran Dohu Main Nahi Jan Paropkari Aaye
Some highlights of the Video are:
Once a reputed Professor approached Babaji with a request to write a book on Him. Giving Baba Baba Farid Ji's example, what did Babaji reply.
The holy Saakhi of what happened to the Boat in which Babaji's Holy Body was consigned to water?
The Spiritual Marvel at the time of the Partition in 1947.
Once Baba Narinder Singh Ji went to Babaji at a time when Hazooria (attendant) was about to wash Babaji's Charans. Baba Narinder Singh Ji requested Babaji to be granted this Holy service to him. Listen to the holy incident that followed.
Also Watch how Baba Ji devoted His whole life to following the footsteps of Guru Sahebs.
Watch the Video - Janam Maran Dohu Main Nahi Jan Paropkari Aaye
and please do send your feedbacks